To start off a disclaimer, I was raised in a family where food is for the most part stuff you grow yourself or you at least know where the cow was born and raised before you ate the steak. I still buy my flour from the miller down the street.
The whole business of organic food, this strange phenomenon that you see in supermarkets and restaurants, it annoys me. A slogan and sticker parade backed up with all the sales talk you can stomach, 'free range', 'farm fresh',… It actually infuriates me to certain degree.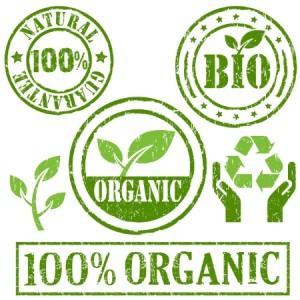 Why, do you ask, does it annoy me so? It is all healthier and better for you and the environment, the animals actually get treated like animals and have a good diet. And my answer should be backed up with the message that, I am all for what organic, bio, eco food stands for. I think people shouldn't eat eggs from battery chickens that can't even stand on their own feet or water culture tasteless veg. But that does not take my rage away that I have about Organic food.
The horror one reads about the way producers deliver us food does make you feel a bit weak in the knees. So I understand why people will buy the more expensive labeled food. A few weeks ago I read the story about orange juice. You wonder orange juice, what can go wrong there? You take some oranges, squeeze them until the juice comes out and bottle the juice, right? Nothing complicated about orange juice in my head until I read the following:
'Once the juice is squeezed and stored in gigantic vats, they start removing oxygen. Why? Because removing oxygen from the juice allows the liquid to keep for up to a year without spoiling. But! Removing that oxygen also removes the natural flavors of oranges. Yeah, it's all backwards. So in order to have OJ actually taste like oranges, drink companies hire flavor and fragrance companies, the same ones that make perfumes for Dior, to create these "flavor packs" to make juice taste like, well, juice again.'*
I was gobsmacked is this really the kind of thing that happens to our food? Further down in the article there was a reply from an orange juice producer saying they do not use artificial flavour packs but create flavour additions out of the peal and oils from the oranges itself. But still it is quite a stretch from a freshly juiced glass of orange juice, oxygen removed and afterwards injected with orange aroma. And this opened my eyes to a shift in food culture, this is where my dislike for the bio, eco, organic and other labels stems from. Why is the food that has been grown normally, the juice that is just juiced and the cow that was in a field not a box the stickered food? In my simple farm logic the 'normal' situation is still what you expect would have happened to your food. Let me try and make myself clear
When I step into a supermarket and get myself a veal steak, I will probably find a packet with veal steak and a bio/organic labeled packet of veal steak. Now in my logic we shouldn't need to be told this veal has had a normal life before we killed it to make this steak by labeling it 'Organic'. No, I think we should have a label that shows the abnormal way the other veal is treated, a big sticker saying 'cheaper and softer, because we grew it in a box'. You could find 'Orange juice' and 'long life juice' labeled 'Deoxygenated and reflavoured with orange peel for longer keeping'.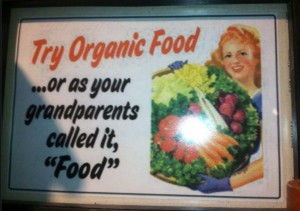 It would just seem more honest and more upholding to logic that you expect your food always to be treated normally as if you would grow it yourself. We should demand that our food is not treated by loads of chemicals and be aware that when you do want that stuff to last for ages it will have more chemicals in it. Fair enough that you make the decision to eat how you eat and budget has place in that decision. But let people make their choices from information and not from organic, bio labels that most of the time only make a packet look more posh.
In my humble opinion, there shouldn't be a 'undefined' default version and a well-treated, organically grown version of food. We should be expecting the well-treated, organically grown/bred food as a default. Expect to be honestly told about the shortcuts and methods that are applied to the food we find in the supermarket. I find myself, more and more, relying on the family garden, a reared cow by a friendly farmer acquaintance and seasonal produce from farmers markets. But I am fully aware I am a lucky one, having access to these budget friendly means of getting healthy food on the table. The fact we have to pay through the nose for traditionally reared and grown ingredients is the cause of outrage and compelled me to write this blog post. If this isn't going to change soon are we going to be eating a mix of chemically preserved compounds soon rather than food grown from the heart?
*From Gizmodo – http://gizmodo.com/5825909/orange-juice-is-artificially-flavored-to-taste-like-oranges