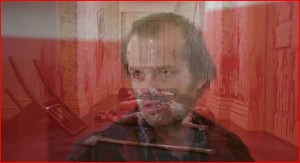 I kinda like the books of Stephen King. I wouldn't say that I am a huge fan. But I like what I have read (or at least the first ¾ of the books… Some of them, I feel that he didn't know how to finish… The clown was great and hugely scarey… But [SPOILER] alien spider?[/SPOILER]… Meh!
The Shining is one of his best books (IMHO). And the film is great. I've seen it a couple of times, and it has not failed to creep me out.
Then I saw 'Room 237'. Not seen it? It is a documentary about the film. And it is not only a great piece of work in its own right. It is also, almost, as disturbing as the film. But for OH SO MANY other reasons.
I feel that I should first laud it's greatness. So many documentaries that you see these days are vehicles of the documentary maker. Promoting their greatness at asking insightful questions and catching people off guard.
237 is not like that. There is no interviewer. All you hear is the words of those that the program is about. They are not being led by questions. They are simply expressing their opinions. And as such, I love it all the more.
Many documentaries that you see today are guided by the interviewer to produce the conclusion that they seem to want to achieve. I did not get the feel of this from 237.
Of course, editing can achieve the same result. But watching it, you can only believe that the producers wanted to allow the interviewees to make their points. For that to be goal.
Admittedly, my personal opinion is that nearly all of their points were so far up their own arses as to be farcical. But then I am not a Kubrick officianardo. I know he was a clever feller, and wacked loads of references into his films… But the plight of the Native Americans, the holocaust and the moon landing expose… All in one film? (Yes, I am glossing over the carpets and the physical layout things here… Seriously. Watch the film, then watch 237. It will make more sense then).
This documentary did not enlighten me to the hidden meanings of the film. It did point out that Kubrick put more thought into his films than I originally imagined (and WAY more than Uwe Boll. WAY, WAY more). But the one thing it really did highlight for me… If you are talented, and try to be clever with your works, arsehats will try to second guess your intention at every turn. And they will try to sound as intellectual as you. But they really are arsehats. And they will spend far too much time seeking out and seeing what they want to see.
If you look for subliminal images and 'shot line ups', you will see them. But then, if you walk down a high street thinking about cupcakes, you will see the references at every other step. You want to see it, you will see it.
People are carrying carpets in meaningful way, carefully timing a shaking of hands so an in tray becomes phallic, fading into suitcases as a metaphor for genocide, the moving furniture, the typewriter that changes colour, the Minotaur… And the impossible office window!!!
But my favourite…
'ROOM No. 237' does make up the words 'Room' and 'Moon'. But he missed the third word… 'moron'.
And yet, once again, I seem to be straying away from my point. Or trying to make it through disparate comments. It is widely recognised as Kubrick being a pretty bright bloke that made good films. But in the case of this one, was he trying to tell us more? When he made The Shining was he simply trying to make a good film, or was it just a vehicle for purveying hidden meaning (or was it both?)
Is this an expose on the footage of the moon landings? Or a commentary on the holocaust? Or highlighting the plight and injustice thrust upon the Native Americans? Or a conspiracy theorists analogy of the world?
Or is 237 just a bunch of people with too much time on their hands seeing what they want to see?
I can't say. When it comes to Kubrick, I just see his films. And I kinda like them. But I don't feel the need to analyse them, or him. Jack chopping though the door scared me nicely. Private Pyle freaked me out just enough.
If people want to scrutinise and theorise the films… I say, fill yer nutty shaped boots. But if you take part in a documentary and sound like a fixated nutter, please forgive me if I think of you as a fixated nutter. Even if the occasional point you make may sound mildly plausible.
Ultimately, if you wanna intrinsically analyse a film… If that makes you happy… Fuckin' go for it. Personally, I'll just go for the pretty and leave it there.
But 'Room 237'? If nothing else it made me think. What more can you ask from a documentary?
Happy (slightly belated) halloween.