On Boxing Day, as is our wont, we got together as a family for a nice lunch in a posh pub. During a convenient break in the eating, Bro and I slipped out for a fag. I stood there comfortable and content, surveying the beautiful green countryside (glossing over the area cleared for future building next to the pub… Neatly enclosed by a wire fence, considerately painted green so it wasn't an obvious blight on the view).
A pheasant flew out of the copse of trees opposite, flew gracefully across the road, swooped majestically over the aforementioned green wire fence and dipped into clear area that would soon become a building. And then completely failed to swoop majestically over the fence on the other side of the area.
I paused for a moment for the sight of a graceful flight ending suddenly and unexpectedly, to sink in… Then laughed my arse off. This was only heightened by the way the pheasant got back up and looked around like 'WTF??!!', and then proceeded to spend the next five minutes wandering up and down the fence trying to work out how to get past this impregnable barrier.
Tonight I was outside my Bro's… also having a fag (nope, you can't smoke inside any building in the UK now. It's the law! Apparently). A mad fluttering up against the side of the house caught my attention. At the point where a slopey bit of roof came out from the wall, a black shape fluttered in a frantic attempt to take flight. I can only assume that it saw me and desperately tried to escape in the opposite direction. Sadly, the opposite direction was kinda taken up by the house. All went quiet as it worked out that this wasn't a winning strategy. I grinned at its futile attempts, and went back to my fag.
I was a little gobsmacked when a minute or so later it resumed its frantic flapping. Again, INTO THE FUCKIN' WALL!!! Did it not spot that flying into the solid and completely obvious lump of impassable building that it could not fly through a few moments before, which was (surprisinly) still there, would be no more fruitful than the last time it tried!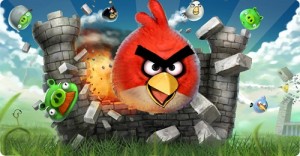 During this frantic attempt to escape the obvious threat that was me (quietly standing there having a cigarette and thinking of my next stop… bed), it fell off the slopey bit of roof. After it picked itself up, and before it hopped and fluttered off into the darkness… You wouldn't believe the look of malice that it threw at me across it's shoulder. I felt bad for a moment. That I had caused it such strife and hardship.
Then I remembered that BIRDS ARE STUPID, and I went to bed.
(Dear stupid Blackbird… The above picture is not you. It's not real. Birds can't really do this.
And if they could, you'd still need a bloody run up! Dumbarse!)