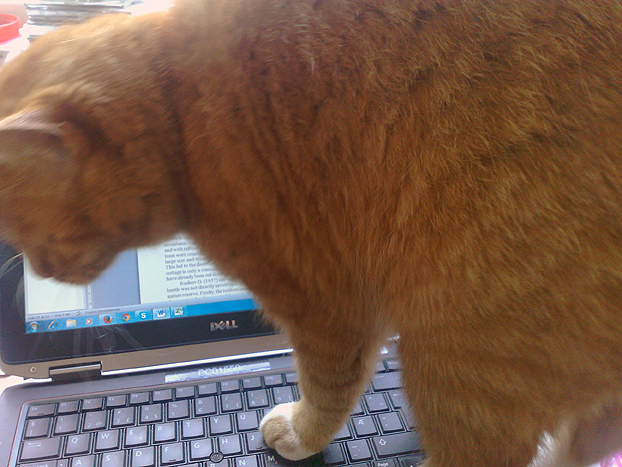 Everyone knows that if you get one cat, you want another. And another. And another. By 2008 I had several cats (most of them related) – but this story is about Gussi.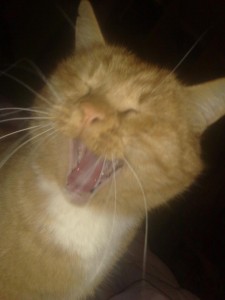 I'm lucky enough to live in the countryside, and can have more than one kitty. More cats equal no vermin. The first batch of kittens were planned love children and got good homes, the second batch also planned – father(s) unknown. I'd noticed a stubby ginger tom prowling around and figured he was the father, but I didn't want more cats and certainly not a battle-scared old ginger. You know what I mean – ginger toms fights, black cats are bad luck, silly superstitions but we all think it. At least this one seemed gentle – I didn't hear any cats screaming warning me of huge fights.
I spent a month that autumn doing field work in Finland, and the neighbours cat-sat for me. By the time I got home, he'd been in and out of the house and I had to decide what to do about him. He seemed nice enough but had a bunch of scars and sores and ticks, probably a few years old, the kind that's had a decent enough home at one point but got lost or thrown away.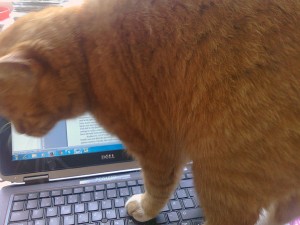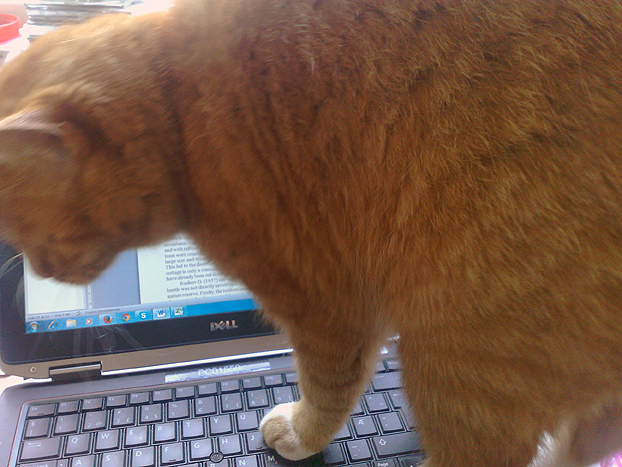 As he'd already moved in and become part of the family, I had no choice but to castrate him and keep him. Putting an old ginger tom in a rehoming facility – in a tiny cage – a cat who no-one would even consider giving a new home – was out of the question. I couldn't decide on a name so the vet suggested Gustav Mahler – in Norwegian, purring is "maler" – and it suited him quite well. He was a purrer.
Luckily for him, it was only after he'd been snipped that I found out homeless cats can be put down, no questions asked.
I often wonder what his story is. He has a pellet from an airgun in his hind leg. He's gentle and sweet and has the most amazing manners. He must have been highly loved when he was small, because cats aren't dogs – they won't love you if you're cruel to them. And they certainly won't adopt you as Gussi has.
Six years on and he still looks like a barnyard ginger tom. He has the moustache of a walrus, he's stocky with short feet and a kitten tail that tends to point straight up when he waddles along. His stockiness is a conundrum because he weighs next-to-nothing. He'll sit peacefully when a ghost flies by then jump up and hop along with straight legs; he twirls when he wants kibbles; he can be so ecstatic when being cuddled that he'll drool and he just loves to help me type. He doesn't say much but his purring can be heard in the next room. He often tends to look really confused, like a dotty old grandpa who doesn't remember who you are, just that he loves you.

In the end it was I who was lucky to be adopted by him. He's taught me that if you're nice enough, don't pick fights, just kinda hang around in the background and wait your while, all things good will come to you – as long as you pick the right hoomin. Then you too will have cheezburger (read: kibbles) and cuddles and love.