You know what it's like… It's the middle of the night and you are awake. Awake and hungry. You're not going to sleep until you have eaten something. And right now, the only thing that will sate your needs is a fry-up. Bacon, eggs, chips and beans. So what can you do? Sit there and whinge or go cook.
I chose the latter.
Contrary to popular belief, I'm not a complete bastard. So rather than sticking on the extractor fan and waking my neighbours, I opened the door. (The aforementioned door opens up onto my balcony. Sounds posh I know, but it's the way you get into my flat. So, not quite so posh. My point being that it was to outside. Cos opening a door to somewhere else in my flat, to vent the cooking smells, would just be daft,)
Anyway… there I was cooking, minding my own business… When I was attacked by a monster. The fiend swept in through the door and assaulted me by aggressively ramming into the side of the head. My instant reaction was, "WTF?"
I was being attacked in my own home, whilst cooking, by a winged denizen of the night! You don't plan for that. A zombie appocalypse, yeah. Every sane person has a zombie appocalypse plan. But winged denizen of the night, whilst cooking??!!
Now I had a dilemma. Fight the beast with all the ferocity that I could muster, or stop the bacon from burning. That's not an easy call. Beat back the invader to your home; protect your property, your integrity, your life. Or get perfect bacon.
Of course the bacon won.
So I went on creating my much desired repast. All the time beating back a creature of the night with my wooden spatula. I know, right? Fucking heroic.
I'm pretty sure that a few of you will now be laughing at my expense. But it was big, damn big. VERY FUCKIN' DAMN BIG!!! I thought that the monsters hung out in Japan. It turns out that Mothra has immigrated to the UK. Bastard.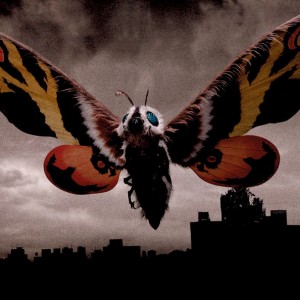 So I finally finished cooking my meal, and had another dilemma. Do I sit down and enjoy it while it's still hot, or do I finish my valiant battle against the monstrous invader. I'm not going to enjoy the food if I am constantly getting beaten around the head by a mainstay of Japanese film subculture. But I don't want my food to get cold either.
So, war it is! I mean. How hard can he be?
We battled from the kitchen to the corridor, from the corridor to the living room and back to the corridor. At times I thought he'd bested me, and at times I had the upper hand. But it was a battle of equally matched will, wits and strength. It went back and forth, forth and back. Shit, it was more exciting than many films I've paid to watch. Eventually I pulled out my special attack. One he was not expecting… A glass and a postcard!
He was powerless against such cunning. I was victorious, and he was ejected through the door (which I hurriedly closed so he couldn't pick on me again).
Fortunately the relentless battle actually took less time to fight than it took me to type this. So my food was still reasonably warm. Double win!
And the only thing better than having a late night fry-up, after defeating your nemesis? Eating your late night fry up, after defeating your nemesis, whilst watching 'The Blue Brothers'.
Yay!