This time last year I was writing for a horror web site. It was quietly acclaimed as one of the UK's foremost, none franchised, horror review sites. It still is.
I don't mention this for props or respect. I actually have nothing to do with the acclaim or reputation. I only bring it up to hint at the fact that I may have half a clue about… Nah, yer right. That was totally an ego trip.
That said… WHERE IS MY BLOOD??!!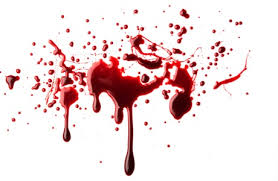 Horror seems to have taken a few steps back from mainstream media over the last couple of years. This is pretty shabby. I will openly confess that I have a pretty crap short term memory. This is weakened even further by booze. And I do tend to drink when I sit down to watch a film (and quite possibly for a short while beforehand).
But the most recent horror film that I thought enough of to remember having seen was 'Cabin in the Woods'. And that was two years ago.
(I just took a small break to google 'horror 2014' and 'horror 2013'. A few popped up that I recognised. But only one made me think, 'ok, that was quite good'. Two years and only one film really hit my radar. Again, I feel the need to confess. There have been other films that caught my eye. And some of them WAY nastier than 'Cabin…'. And yet 'Cabin…' is the name I remember).
Yes, I will openly confess. I could have gone hunting further for my blood splattery fix. But if you go looking for a scare, a shock, a jump… surely you are expecting it… Craving it. And as such it is only pandering to your pre-expected need.
But you won't have those beautiful moments… Like when a friend and I went to watch 'Pet Sematary'. I knew she was strong, confident and (if you didn't know her) a little intimidating. I didn't know that she was easily scared by scary films.
We were sitting there happily enjoying the film up until the point that [SPOILER WARNING] the dead fella dropped through the loft hatch [SPOILER OVER. YOU CAN OPEN YOUR EYES NOW]. I am told that this was a shocking and scary moment. I'm sure it was. But all I remember of it was watching them creep down the corridor, an orchestrially augmented BANG, and a view of the ceiling of the cinema.
My friend was startled. So she grabbed the first thing she could find, and hid behind it. Unfortunately, that 'first thing' was my leg. She hugged my thigh and hid her face behind my knee. So we both missed the scary bit. Sarah, because she was pressing her face into my jeans. Me, cos I was in an unanticipated and rather uncomfortable position which involved me being around 90 degrees from your expected orientation in a cinema… slowly realising that the gloomy vista in front of you is not the screen. And that someone is biting your knee.
This is shit that you can't make up. Trust me on this.
Anyway… I miss the 80's movies, when every other film would tear off a limb or rip out a throat. It wasn't necessarily relevant to the plot. It may not even be well done. But it was done with heart and soul and the futile hope that it would shock.
No. This cannot be the end of the scare. And I do mean the scare, not the shock. The early Saw films did the shock well (even if it was a rip of the shocks of Se7en). I'm talking about the ones that had you perched on the edge of the sofa, biting the duvet or pushing your beloved towards the screen so they got eaten first…
I want this again. Do I have to go back to the John Carpenter back catalogue again?
There has been some stuff that achieved the 'WHAT THE…' But film and TV has not really stepped up in the last couple of years.
There are a couple of games that have been released for the season of the spooky. Maybe one of them will save us from mundane sit-coms.
But so far… for me, this Halloween is so far shockingly lacking in shock. And I haven't had my knee bitten in years.
I hope your All Hallows made you scream and cry for all the right reasons.
Hugs
xxx