I am a blogger from the heart and from the soul, when both get to travel from hopeful to shattered one too many time my pen halts. My mind tells me don't get your hopes up but it is my personality to keep on dreaming, hoping and believing.
In this post I would like to share an artwork that was made for me by my rock, my love and hearts desire.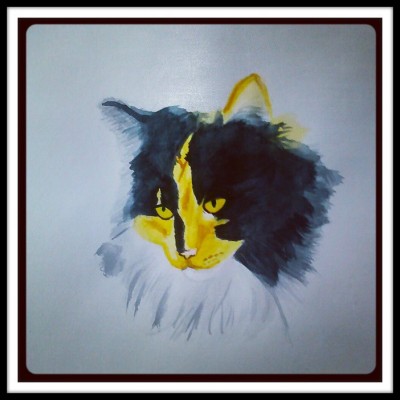 Almost a year ago we got the news that the waiting lists for Belgian adoption were closed, I cried and I despaired, I scolded and screamed but most of all I lost all happiness. I just felt cheated by the world. My boyfriend who was at the end of his ideas came up with the best one ever, he gave me a little creature to take care of love, her name is Nutmeg. People called us crazy for having 4 cats but that little being lifted my heart. She needed me, she needed me as much as I needed her. To this day she is the apple of my eye, and yes I treat her like my baby and probably annoy people with too many pictures on facebook, too many stories on the sofa, too many instagram messages and too many silly voices when I talk to her.
Now a month ago I started another treatment for my Endometriosis. To cheer me on Rowland made a watercolour of our little Meg. I wanted to share it with you and hope it will bring you a smile, like it does me every time I see it.